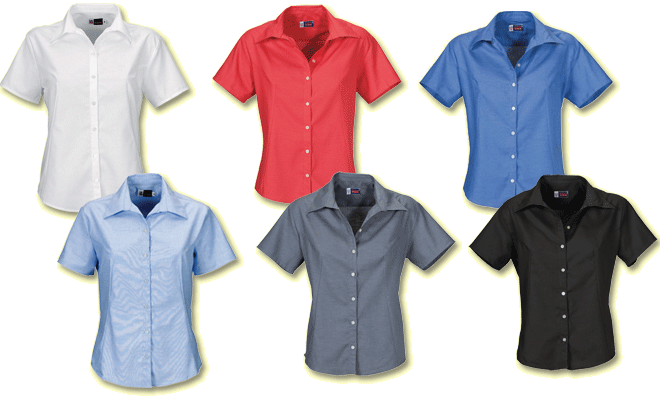 Aspen Ladies' Blouse. The Aspen short sleeve promotional blouse is form fitted and has pearl buttons. Oxford fabric of 10% cotton and 30% polyester. Weight: 130gsm.
Available in white, red, light blue, blue, dark grey, black
Sizes available: S, M, L, XL
Screen print areas: Back/Centre: 330 x 150mm. Breast: 70 x 1o0mm.
Embroidery prices are example for shirt with logo of 5,000 stitches - approx 24sq cm. up to 12 colours
Screen printed prices are for shirt printed 1 colour in 1 position and include flash curing and origination for coloureds. Please call for multi-colour print prices and transfer printing options
See matching men's shirts which can be added in our mix and match service
Mix and match clothing service - Order 18 men's shirts and 7 ladies' blouses and buy at the 25 rate.
Origination: £29.00 per colour per position.