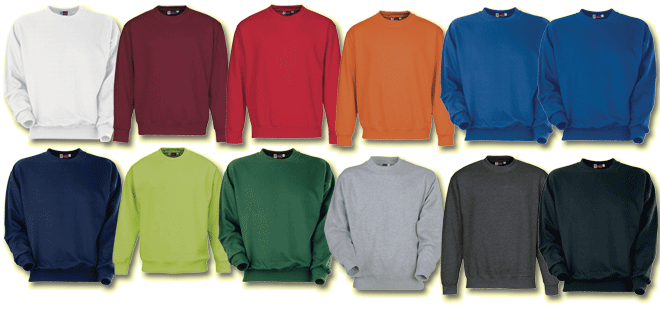 Atlanta Classic Sweater is one of the most popular sweaters in the US Basic Sweat Shirt Range. 1 x 1 Rib knit with elastane on the collar, cuffs and bottom hem. Double stitching on the collar and armhole. Knit of 60% Cotton and 40% Polyester. Brushed on the inside. 260 g/m²
Sizes: S-XXXXL
Colours available: white, burgundy, red, orange, royal blue, classic royal blue, navy, apple green, bottle, ash, anthracite, black.
Screen print areas: back centred: 380 x 400mm. Front breast: 120 x 120mm. Front centred: 380 x 400mm. Sleeve: 330 x 100mm.
Embroidery prices are example for t-shirt with logo of 5,000 stitches - approx 24sq cm. up to 12 colours
Screen printed prices are for sweater printed 1 colour in 1 position and include flash curing and origination for coloured t-shrts. Please call for multi-colour print prices and transfer printing options
Origination: £29.00 per colour per position.